The major reason a motorcyclist is more likely to be killed in an accident is due to the lack of protection compared to regular passenger cars. There are some very common situations that tend to result in a serious Sacramento motorcycle accident.
In the United States, there are roughly 9 million motorcycles on the road. With that many out there, it's probably no surprise that nearly 5000 motorcyclist are killed and nearly 90,000 injured each year. Unfortunately, the fatality rate in motorcycle accidents is 26 times higher than average. It's very clear, riding motorcycles carries inherent danger with it.
As a Sacramento motorcycle accident attorney, I have seen more major injuries and loss of life from Sacramento motorcycle accidents than I care to admit, and these types of accidents are often preventable, which makes them even more tragic.
Top Causes of Motorcycle Accidents
 Left Turn in Front of a Motorcyclist:

This particular situation causes 42% of all motorcycle collisions, and is the most common. Typically, a vehicle will turn left, and strike a motorcycle. The motorcyclist may be attempting to pass while in the same lane, or just driving through an intersection. Usually, the driver of the car does not see the motorcycle for whatever reason. In many cases the driver was distracted, or assumed that because there weren't any cars or trucks in their way, then there couldn't be any other type of vehicle there as well. Including motorcycles.

 Improper Lane Changes:

This type of accident usually happens when a driver fails to check and ensure the lane is clear before making a lane change. Motorcycles are smaller and more difficult to see than passenger cars or trucks, and this can make it harder for other drivers to spot them.

 Lane Splitting:

States like California, motorcycles are allowed to travel between lanes of traffic. This often results in an accident since other vehicles are not expecting the motorcycle to be there. It also occurs due to the closeness of the motorcycle to the other vehicle. Even if the motorcyclist or the car/truck driver is cautious, there is often little room for either one to get out of harm's way.

 Unexpected Open Car Door:

Unfortunately, this one happens simply out of carelessness, when someone throws open their door without checking to see if there are vehicles approaching. In the case of a motorcycle, the consequences are usually more severe than another car simply damaging your open door, as motorcyclists are often ejected from their bikes in these types of accidents.

Speeding:

High speeds can make motorcycles very difficult to control. While they are certainly more maneuverable than most passengers vehicles, they too, have their limits, and speeding around corners can cause very serious accidents.

Road Hazards:

Even a small obstacle or item in the road can have devastating results for motorcyclists. A normal car or truck can handle bumps, potholes and even some road debris, but these same hazard pose a huge danger for motorcyclists. Even a small piece of road debris can throw a motorcyclist off his or her bike, resulting in major injuries and even death. Being aware of the roadway is a top priority for motorcyclists.

 Animals:

Wildlife often wander into roadways, and smaller animals, like skunks or raccoons, which may be little more than a bump in the road if you hit one, can cause a motorcyclist to lose control completely and crash. Deer, on the other hand, are equally scary for any driver.

 Riding while impaired:

Over 42% of all crashes involve the use of substances or alcohol. Driving under the influence of any substance impairs judgement, reaction time, coordination, and cognitive abilities.
Injuries From a Sacramento Motorcycle Accident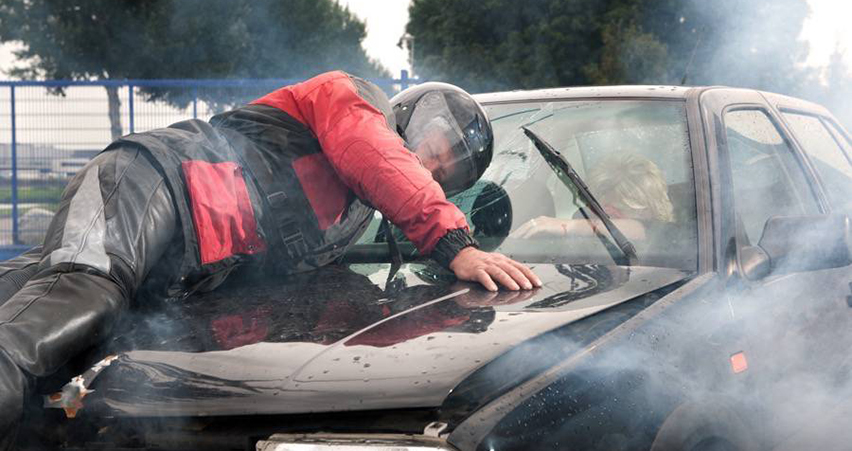 According to the National Highway Traffic Safety Administration (NHTSA), over 80% of all accidents involving motorcycles result in significant injuries or death. There really is no such thing as a "minor" motorcycle accident. Motorcycle drivers and passengers are more susceptible to injuries, and some of them are fairly specific. Some of the most common injuries from a Sacramento motorcycle accident are to the lower extremities, and fractures, dislocation, and soft-tissue injuries are common. In California, we have motorcycle helmet laws, and they do prevent many brain injuries, but unfortunately, 80% of all fatal motorcycle crashes are due to traumatic brain injuries. Back, neck and spinal injuries are also common, and can result in partial or complete paralysis. Oftentimes, even in a relatively "minor" crash, the motorcyclist is thrown from their bike, and their injuries when compared to those of the driver of the car, are nearly always far more severe.
Motorcycle Insurance in Your State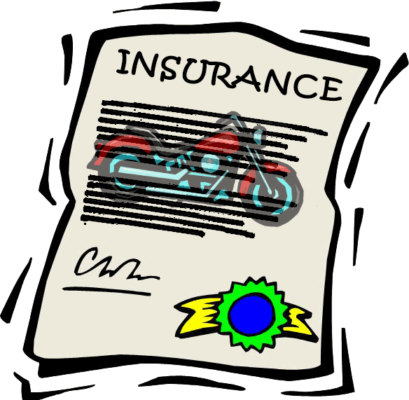 The state of California has some pretty firm rules when it comes to motorcycle insurance. In California, motorcycle drivers are required to carry:
$15,000 per person for injury or death
$30,000 for multiple people
$5,000 for property damage to another vehicle
Comprehensive and collision insurance cover damage to your motorcycle. Typically, collision is used in situations where your bike is damaged by a collision with another car, or an object such as a wall or a tree. Comprehensive insurance covers damage that is caused by vandalism, flooding, accidents with animals and other things such as windshield damage and fire. Neither comprehensive nor collision insurance are required in California, though if you are financing your bike, the dealer will likely require it.
Fault or No Fault
If a motorcyclist is at fault for an accident, his or her insurance will pay for the damage done to the other person. However, if the other party to the accident was at fault, that person's insurance is responsible for the damage. Since it is not in their best interests to accept that the insured was at fault for the accident, they will try to find a reason to defer fault. They may require a lengthy investigation, and question anyone who was at the site of the Sacramento motorcycle accident, including witnesses.
Paying a Deductible
Many people worry that if their insurance pays for the damage and injuries they suffer, they will be required to pay a deductible. If the insured is not at fault for the accident, the insurance company of the other driver will be obligated to repay the deductible. This is referred to as subrogation. In addition, some insurance companies will waive the deductible, and recover it from the other insurance company directly.
Underinsured/Uninsured Motorist
Many people are underinsured or uninsured. If you are involved in a Sacramento motorcycle accident, and the other person lacks insurance, your insurance will pay if you have collision and comprehensive. If not, and your bike is damaged or you are hurt in the accident, your insurance will not pay. On the other hand, if you have opted for uninsured/underinsured coverage, the insurance will pay if the other driver caused the accident and is uninsured or underinsured.
Options for Insurance Coverage
It is important to carry enough uninsured/underinsured insurance coverage. If possible, $100,000 in coverage would help you cover bills related to an accident such as damage to your motorcycle and health care costs you may incur.
An umbrella policy, usually covering homeowners and auto/vehicular insurance, protects your assets if you are in an accident or facing a lawsuit. The cost is relatively low compared to the protection it provides to ensure peace of mind. By extending your liability insurance in this way, you are covered no matter what happens up to the policy limit.
It is important to make sure you have a copy of your insurance policy. Reviewing it to make sure it is up-to-date is a good idea.
Liability in Your State
California is a state that uses comparative fault. In other words, drivers in an accident may be assessed a certain amount of fault. It might be that one driver is 100% liable for the accident. When that happens, their insurance is responsible for 100% of the damages. In other cases, one driver may be 60% responsible, while the other person is 40% responsible. This determines the amount an injured driver can collect. For instance, if the damages are set at $10,000, the driver who was 40% at fault can still collect $6,000 from the other driver. Often in chain reaction rear-end accidents, we a lot of comparative fault claims.
Repairing Your Motorcycle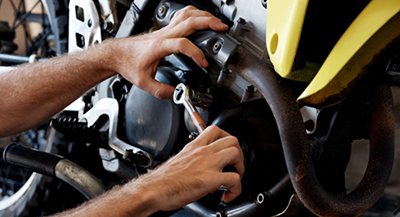 Depending on who or what is determined to be at fault, damages to your bike will be covered by either your own insurance company, or the at-fault party's. The amount you recieve will depend on a few different factors, including the coverage specifics of the insurance policies.
Fair Market Value
If it is determined that your motorcycle is a total loss, an insurance company will pay what a comparable vehicle would cost at the time of the incident. This is referred to as "fair market value." It is very unlikely that a motorcyclist (or any driver for that matter) would receive the full purchase price of their vehicle, since they depreciate the moment it is driven off the lot.
If you are financing your motorcycle at the time of the incident, and the bike is declared totalled, the "fair market value" might not cover the outstanding loan balance. In this scenario, the owner of the motorcycle is responsible for making up that difference, despite the fact that the vehicle is useless. One way to protect yourself from this is to purchase gap insurance, which will pay the difference between what the insurance company pays and the amount that is stilled owed on the loan.
Even if your bike is a total loss, you can opt to keep it, but your settlement will be reduced by the salvage amount.
Insurance Disputes
Throughout the process of an insurance claim, there can be several types of "disputes" that develop.

Disputes over fault:
There are occasions where the dispute if over who is at fault for the collision, or the percentage by which fault is shared in comparative fault cases. In this situations, the evidence from the scene, police reports, and and photo evidence becomes incredibly important. Sometimes attorneys employ the services of accident reconstruction specialists, to determine exactly what occurred during your Sacramento motorcycle accident.
Disputes over damages:
Insurance companies are in the business of making money, and they will often do everything they possibly can to reduce the amount of money you are paid out for your accident. The first offer of a settlement is typically quite low, and many people jump on it, just to get something to help during their recovery. It is common for an injured party to be besieged by medical bills and be unable to work or not be able to get there due to motorcycle damage. Please resist the urge to take the first offer of a settlement. Discuss your case with an experienced Sacramento motorcycle accident attorney before you sign anything, because once you do, you can guarantee you will never see a penny more.
Negotiations:
Your attorney will negotiate with the insurance company, and go to battle for your rights following an accident. Our experienced motorcycle accident attorneys will happily take your case to court if necessary, and will make sure you get the full amount of compensation for your injuries possible.
What Needs to Be Done Immediately Following a Sacramento Motorcycle Accident
Immediately following a motorcycle crash, there are few things to do to ensure both your physical and financial safety:
Take care of physical injuries:

Even if you don't feel a lot of discomfort, it is ALWAYS best to be evaluated by a medical professional. Some injuries that can be life-threatening may take days or even weeks to manifest symptoms, so it is imperative to seek medical help as soon as possible after an accident, even if you feel fine. Adrenaline is nature's painkiller, and can mask symptoms.

Check on others:

If it is safe to do so, check on others involved in the accident. If someone is injured, activate emergency services.

Call the police.

If an accident is minor, or there are not obvious injuries, sometimes there is no law enforcement response. It is always helpful to have a police report documenting an accident, and sometimes going through the local sheriffs department of Highway Patrol might be the best option. It can be helpful to lad the contact information for your local law enforcement departments into your phone, just in case.

Take pictures.

Photographic evidence is difficult to dispute, and can certainly help your claim. If the scene is safe enough, try to take as many pictures as possible. Photos from your mobile phone are perfectly sufficient, and you don't need to have photography skills. It's important to document vehicle and property damage, vehicle positions, skid marks, etc. Once the scene is cleared and opened to traffic, that evidence is lost forever.

Obtain information.

If you are not on a busy highway where leaving your motorcycle is dangerous, obtain contact information from others at the accident scene, including possible witnesses. It is important to get information from other drivers involved in the accident such as their license and registration numbers, their name and telephone number and their insurance policy information. When you are doing this, it is critical that you do not apologize for the accident. This can be used against you later. It is also important not to rely on law enforcement to get this information for you. It will likely be a part of the police report, but those can takes weeks to get back, and are not always accurate.

Notify your insurance.

Simply inform the company that you were in an accident and that you or your attorney will be available for further questions. There is no need to go into details, or elaborate.
Statute of Limitations
There are time limits on how long after an incident you are able to bring a claim. In California, a motorcyclist has 2 years from the date of the accident to bring forward a claim or lawsuit. There are exceptions, of course, but it is always better to act sooner rather than later, since that time limit will expire before you know it.
In cases where government entities are involved, the claimant has only 6 months to bring a claim. Lawsuits pertaining to the government often include poor road maintenance, like potholes, poor signage, or other issues that could contribute to causing a motorcycle accident.
Why You Need An Attorney After a Sacramento Motorcycle Accident
An experienced Sacramento motorcycle accident lawyer will be prepared with the tools and knowledge needed to make sure you receive the compensation you are entitled to. This includes every step of the process, from the initial consultation, to dealing with insurance companies, to compiling evidence for trial.
Dealing with the insurance companies:

Working with insurance companies can be a challenge under the best of circumstances, its even harder if you're trying to heal and recover from your injuries. Our team of experienced attorneys will handle the insurance companies from day one, so you can focus your energy on your recovery.

Obtaining an insurance company settlement:

Insurance companies do everything they can to reduce payouts, and they tend to make a very low offer initially. Your attorney will examine any offres and determine if they are appropriate to cover all damages, and that includes in the future too.

Filing papers on time:

As noted above, missing the time frame in which to file can cost you a great deal. The attorneys at the Law Offices of Zappettini and Bradley will never let that happen.

Taking a case to court:

If negotiations are unsuccessful, we will take your case to court. Depending on the circumstances surrounding the event, your case may be heard by just a judge, or a whole jury. In the event of a jury, your attorney will carefully choose the jurors he or she feels will benefit your case the most. Bias against motorcyclists exists and is an important factor in picking a jury in a Sacramento motorcycle accident case.

An attorney works on a contingency basis

We only work on a contingency fee basis for personal injury cases, including a Sacramento motorcycle accident. This means that the lawyer's fees are paid only if you win and are paid out of the verdict or settlement amount.
Staying Safe on a Motorcycle
Wear a Helmet- No Exceptions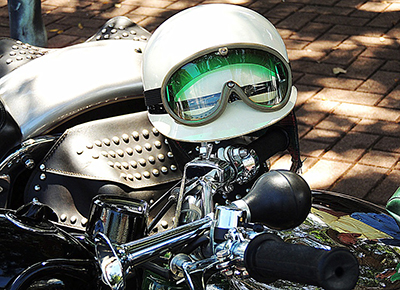 The most important thing you can do is to wear a helmet. Roughly 40% of fatalities and almost 80% of traumatic brain injuries can be prevented simply by using a well-fitting helmet that meets safety standards.
Keep It Conspicuous
Being highly visible is one of the best ways motorcyclists can stay safe. This is doubly true at night or during bad weather. Reflective clothing and a bright headlight can help dramatically in increasing your visibility while on your bike.
Passengers
When a passenger shares a motorcycle with a biker, the rider needs to educate the passenger on where to place their feet during the ride, and make sure the passenger wears a helmet. If an accident happens due to the motorcyclist's failure to be observant, ride while intoxicated or disobey the rules of the road, a passenger can file a claim against the driver of the motorcycle. This is particularly true if the Sacramento motorcycle accident was not the fault of anyone else.
Pedestrians
The same rules that apply to other motorists are applicable to motorcyclists particularly when it comes to pedestrians. While on some occasions the pedestrian may be deemed partially at fault such as when no attempt is made to use a crosswalk or wear bright colored clothing, all motorcyclists need to be vigilant in watching for pedestrians.
The "Sudden Emergency" Doctrine
When a motorcyclist is put into an "emergency situation" by another driver or entity, negligence cannot be claimed against the biker, provided they reacted to the situation in a similar way that a sane, prudent person would under similar circumstances. This will hold, even if afterwards it is determined that the the choice the motorcyclist made was not the best one.
Conclusion
No matter what the circumstances are around your Sacramento motorcycle accident, the attorneys at the Law Offices of Zappettini and Bradley can help. Contact us today for a FREE CONSULTATION.