Any parent's primary goal is protecting their children, and ensuring safety in car is no exception. There are several ways you can make sure your kids are as safe as possible while they are in the car.
One of the first steps a family can take to help protect their loved ones is to research the vehicle they intend to purchase. One helpful resource in that regard is the website Safecar.gov which contains very helpful information like government crash test results and rollover information for cars and pickup trucks. A little bit of time spent researching the vehicle you are considering can be very well spent in the effort of protecting your loved ones. Obviously, the higher the safety rating the safer for your family.
In the unfortunate event that you are involved in an crash, the Sacramento auto accident lawyers at the Law Offices of Zappettini & Bradley hope these tips and suggestions help keep your precious children safe.
What Can I Do to Keep My Children Safer?
Newer vehicles come with many safety features built in that are designed to help protect all occupants, including children. Examples of a few include:
Automatic door locks- Automatic door locks can be helpful to reduce the risk of occupant ejection and also an important safety consideration in preventing forced entry into your vehicle.
Advanced airbags- Airbags have made a huge difference in reducing the severity of injuries and many accident scenarios. Some newer vehicles contain not only advanced front airbags but also side airbags.
Rearview cameras- Rearview cameras prevent unnecessary backup injuries and that is a leading cause of injury and death of toddlers.
Car Seats
Car seats are an crucial investment for families who have children from infants to those children old enough to where an adult seatbelt safely.
For the very young, rear facing car seats are appropriate. That is followed by forward facing car seats and even booster seats for those too old for rear facing car seats and too young for adult seat belts.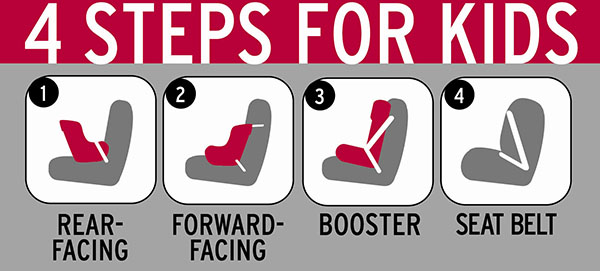 Children under the age of 1 are recommended to always have a rear facing seat which is installed in the back seat. Manufacturers of seats generally put the height and weight specifications for children on the car seats they manufacture. Obviously, parents should adhere to the manufacturer's suggested specifications for their children's safety.
Once a child has reached the height and weight specifications for a forward facing seat they can be moved appropriately and as with the rear facing seat the forward facing child car seat should be installed in a rear backseat.
Booster seats are used in conjunction with adult seat belts to allow the seatbelt to be effectively used by a child. The seat lifts the body so the child can be appropriately restrained in an adult seat belt.
Experts recommend that you find a car seat that appropriately fits your child and make sure that the seat you have selected is properly installed. Taking the time to read the installation directions are critical to helping keeping your children safe in their seat. Many local police and fire departments will help you install your car seats properly on a drop-in basis. You can check to see what available in your area on the NHTSA website.
As previously indicated, the rear seating area is safest for children in general, including those in car seats. Make sure that the harness is secure enough that excess slack does not remain between the harness and your child.
Dangers in and Around Vehicles
Parking Areas
Another area for child safety are dangers around vehicles. Small children tend to dash out in front of and behind vehicles and that is major cause of child fatality. Teaching children not to play around streets and vehicles is always necessary as is checking around your own vehicle whenever backing out or pulling up. A reminder I used with my son was telling him that if he was not tall enough to look into the back window of a car, then a driver probably couldn't see him, so HE needs to be alert (it stuck, thankfully). However you communicate the topic of car safety to your children, enlisting their aid will keep them safer and help them learn to become more aware of their surroundings as they get older.
Temperatures
In areas like Sacramento, California, heat can be fatal for children left for even short periods of time in a hot car in the summertime. Heatstroke can quickly become fatal. Children should never be left unattended in a car regardless of whether the air-conditioning is running or not.
Seat Belts
Parents should also check frequently to make sure that their children are adequately belted as children have been known to play with the buckles and unbuckle themselves unknowingly. To prevent entrapment and/or unnecessary injury parents should always double check the seat belt.
A little time spent investigating vehicles, safety equipment and instructions for proper use can help prevent unnecessary injury for your family if they are ever involved in an accident. Extra caution with children in and around cars is always warranted, and always justified.
If you or a loved one has been injured in any type of accident, it's important to seek legal counsel as soon as possible, as you may have limited time to act. The team at the Law Offices of Zappettini & Bradley will come to you at your home, or even in the hospital. We won't stop until you get the compensation you deserve for your suffering. Contact us today for a FREE CASE EVALUATION.